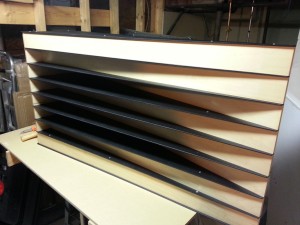 The Acoustic Ramp™ is a new kind of quadratic residue diffuser (QRD) diffuser that is used to improve the acoustic quality of rooms used for critical listening, sound reproduction, and performance.  The Ramp is particularly effective in smaller rooms and rooms that are retrofitted living spaces.
Download The Acoustic Ramp Assembly Manual V1.5 for the latest assembly and installation instructions. The installation manual is also the best source for understanding what the Ramp's unique structure actually is.
Advantages over traditional diffusers:
De-Parallels The Walls
Scatters Energy In 2 Dimensions (data)
Wider Bandwidth from 300 Hz-20 kHz
Installs In Upper Corners & Saves Floor Space
Ships & Stores Disassembled (unless you want it assembled)
Prevents Comb Filtering & Flutter Echoes
Standard version consists of Furniture Grade Maple Plywood & Black Powder-Coated Aluminum
Custom made to your specifications! Please call at 781-710-4521 or write to hendrikxix <at> thiswebsite for details!
How Does the Acoustic Ramp Handle Scientific Testing?
Why Does the Acoustic Ramp Work Better Than Other Diffusers?